Art
We are all artists at The Avenue! Our art curriculum encourages children to develop their art skills and implement these into their individual, artistic expression and creativity within their curriculum learning. We give the children the opportunity to critically consider a range of cultural and historical creative works using the vocabulary of art and design.
We achieve this goal by:
Displays around school allow children to proudly display their artwork. Work is displayed throughout the year groups, from Early Years Foundation Stage to Year 6.
During art-based topics, Know-It Boards are used to display key art vocabulary that children have been introduced to.
Art Know-It Mats which show all of the learning that children throughout the year within art.
Curriculum big books demonstrate how each strand of art is taught throughout the year groups, objective covered, photographs of children creating their artwork, children's work and children's thoughts.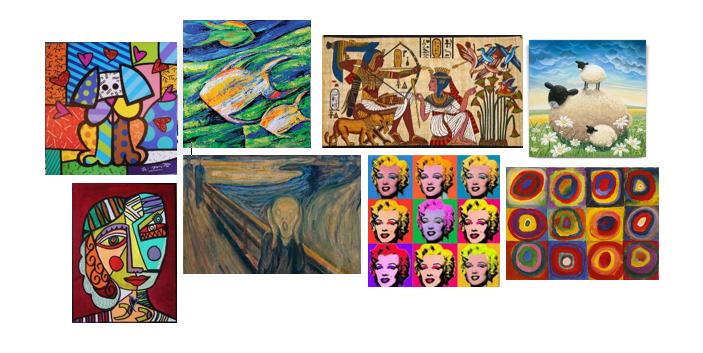 How do we approach art at The Avenue?
Our art curriculum allows the children a means of expression beyond that of learning provided in the core subjects. Art projects are focused around year group topics so that the artwork that the children produce is directly linked to other topic learning. This gives the children an immersive, all-round experience throughout each half term.
Children at The Avenue develop their artistic skills throughout the year groups in these key areas:
Line
Pattern
Colour
Texture
Form
Space
Shape
Cutting
Using materials
Using drawing materials
Drawing
Painting
Printing
Sculpting
ICT
Using sketchbooks
Opinions on artwork
Artist Study
From Early Years Foundation Stage through to Year 6, children build upon their skills throughout the year groups.
Each year, children will recap their previous learning as well as develop each skill further.
How do children record their artwork?
Every child in school has a sketchbook to record their artwork. Children are encouraged to practise the skills that they are developing in their sketchbooks so that their refined skills can be used in their final piece. Sketchbooks are used for practise and final pieces during drawing and painting teaching.
Which artists do children at The Avenue study?
Each year group takes part in a minimum of two artist studies per year. The artists who are studied have been carefully chosen to include a range of artists, including those from the local area and artists from different cultural/historical backgrounds. Children will be encouraged to consider the artwork produced by the artists that they study and develop their own opinions on the artwork produced. After they have considered the artists' artwork, children will be encouraged to consider their style and they will create a piece of artwork inspired by the artist.
For further information regarding he Department for Education Key Stage 1 and 2 Art and Design Programmes of Study please see document below
| | |
| --- | --- |
| Document | |
| Department for Education Key Stage 1 and 2 Art and Design Programmes of Study | Download |